In Which I Travelled Time And Met My Grandparents
This is one of my favourite pictures.
I was sitting with my parents a few years ago at breakfast and we were talking about the house and childhood homes. I knew that my dad (1949) grew up in the east end of Toronto and that his father was had been a butcher at Dominion. His mother and aunt had owned and run the flower shop they had inherited from their father. After high school (at Riverdale Collegiate) was over in the afteroons, dad would drive over to the flower shop and make deliveries.
Curious about that I asked where the flower shop had been. The corner of Main and Danforth. Up popped this picture, courtesy of Beach Metro Community News, David Van Dyke and the Toronto Beaches Branch Public Library. "This look familiar?" I asked as I slid the tablet over. "That's it." he smiled, and then he laughed.
Main and Danforth is today the eastern terminus of the 306 Dundas/College/Gerrard streetcar line, and there's a turn-loop just north of Danforth behind that building. Back then, before the Bloor subway line #2 was completed in 1966, streetcars turned right to run along Danforth.
In the picture you can see the yellow and green sign of Hammett's Florists just peeking out behind the turning Presidents' Conference Committee streetcar. "See the man standing on the street corner watching the world going by like he owns the place?" Yeah? "Pretty sure that's my dad."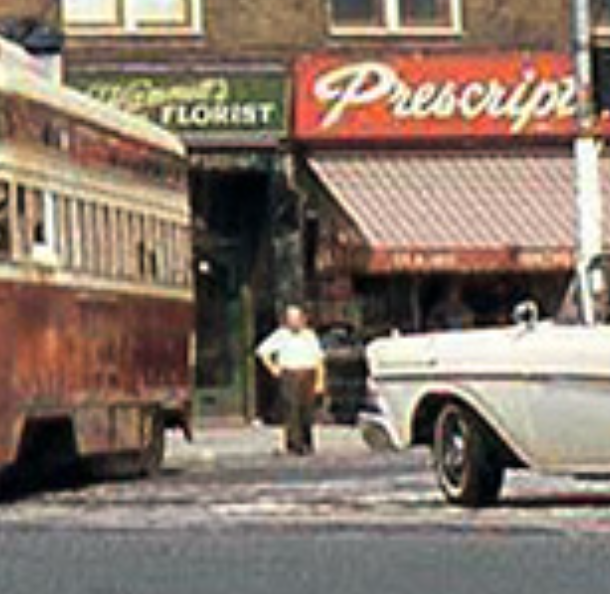 Everyday, after his shift at the meat counter at the Pick-N-Pay a few blocks down (before Dominion bought the chain out and moved him to the Mammoth Dominion at Danforth Rd.), grandpa would walk down to grandma's flower shop, and wait for her and her sister to close up shop for the day. Standing on the street corner, hand on his hip like that, just watch'n the world pass by. Then they'd walk the dozen or so blocks home to Woodbine and Gerrard.
Today the flower shop is long gone. There's still a pharmacy there next to a schwarma joint. Regal Furs is gone, but the Giffen-Mack funeral home is still there.
I don't know why this photo tickles me so. Grandma passed when I was 2 or 3 and grandpa passed only a few years later. I never really got to know them very well. I think its just neat connecting that way through an old photo.
Shortly after discovering this photo, I posted it to /r/Toronto on Reddit. One of the commenters was a second cousin who has the flower shop sign on their back porch. :)
follow –> AT tezoatlipoca AT mas.to, or AT tezoatlipoca AT awadwatt.com to follow this blorg directly on the Fediverse.